Foreword to ANOINTED MOMENTS by actor and director, and our friend, Edward James Olmos:
Miracles are hard to come by in education these days.  Anointed Moments chronicles a passel of them, centering around two Los Angeles schools where one humble and incredibly optimistic and energetic man with a vision for what a true "Catholic" education could be, teamed with teachers, students and parents alike to transform these once deeply challenged, about-to-fail institutions into schools of national distinction.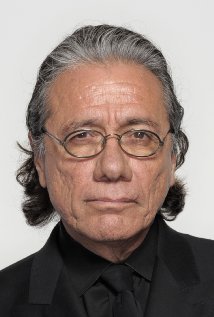 I didn't meet Dan Horn until January of 2010. Still, without knowing it, I was becoming aware of his work simply by driving past St. Genevieve High School not far from where I lived.  You only needed to be an occasional passerby to notice the changes that were taking place at St. Gen's over time.
Back in the 1990s, I saw fewer and fewer students make their way in the mornings to this once-prestigious school on Roscoe Boulevard.  Not only that, those who were attending didn't seem to be walking with the same pride that had once characterized the St. Gen's student body.  Much of the news coming out of the school was also less than positive, and eventually I, like many others, heard rumors that St. Gen's might close.
And then right around 2000, things started to change.  I'd see more kids on the Boulevard making their way to and from St. Gen's, some proudly wearing letterman jackets while others just walked with a renewed sense of purpose.  Students seemed to be getting the old St. Gen's swagger back.  One day I drove by to see a huge banner over the entire entryway: "St Genevieve High School — a National School of Character."  I didn't know what it meant, but I figured it had to be a good thing: call it a "transformation affirmation."
Flash forward to January 2010, when principal Dan Horn invited me to take part in the school's Character Education Program.  I was delighted to accept, unaware that I was about to experience the transformation that had taken place at St. Gen's firsthand.  It was an evening I'll always remember.
A welcoming committee of students met me at my car.  There was nothing shy about any of these individuals: firm handshakes, unwavering eye contact and a genuine interest in making me feel instantly at home.  It was clear that they loved their school and they wanted me to love it, too.
It was in the faculty lounge — where I enjoyed a dinner with the St. Gen's faculty and staff — that I first met Dan Horn, or Danny, as he quickly became known to me.  There was just something about him that made me feel I'd known him for years.  Over our meal, he shared some of his insights and the efforts it took for him and his team to turn a failing school into a national model for character education in just a few years' time.
But talk is one thing.  Actions are another.  And it was after dinner that I first realized how deeply ingrained "character" actually was in the St. Gen's students, as well as in their parents.  It was 7:00 p.m., already dark out, when it became evident to me that school was still in session.  And that the students and teachers who had just completed their afternoon classes were now making their way to the gym for my presentation.  Walking among them, I encountered hundreds of clearly happy, well-dressed, and motivated students shouting words of welcome and encouragement.
It wasn't until I arrived at the gym, however, that I became aware of the hundreds of parents also waiting to greet me and hear what I had to say.  This was no run-of-the-mill high school assembly, in other words, but rather, it was an opportunity for me to share my thinking and my experiences with an entire community.  Nor, as I would later learn, was tonight's assembly an occasional event.  St. Gen's Character Education Program gatherings were a monthly occurrence.
Prior to my taking the stage, there was a school prayer and all the students stood to sing.  And sing they did!  In all my years of taking part in school events, I'd never heard young people sing with such obvious enthusiasm and joy.  Truly, it was as if the heavens had opened with song.
And then it was my turn to speak.  Often in high school assemblies there is an undercurrent of whispers as students who wished they were elsewhere expressed their frustration.  There was no such undercurrent at St. Gen's as hundreds of students — and their parents — listened attentively, then asked thoughtful questions.
Figuring that my evening was over after I answered the last question, I was absolutely stunned when the entire audience blessed me and prayed for my ministry to leave the world a better place.  The ring of students sitting near me on the floor suddenly stood as one, surrounding me as they were joined in song, and then in prayer, by everyone else in the room.  To say that I was both inspired and thankful would be an understatement.  It was for me an anointed moment.
In the pages of this book, Dan Horn shares a number of other such touching and often life-changing stories from his years as principal at St. Genevieve High School in the San Fernando Valley, as well as from his nine-year tenure as principal of St. Thomas the Apostle elementary school in the Pico-Union District of Los Angeles.
I believe you'll find these special anointing moments as powerful and affecting as I did, and will feel refreshed and heartened by your reading.
— Edward James Olmos